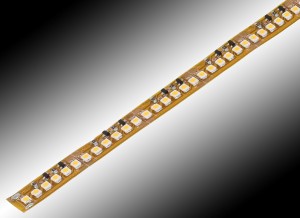 JESCO's DL-FLEX-HD and DL-FLEX-CTA are architectural-grade, low-wattage, dimmable, flexible linear LED lighting systems. DL-FLEX-HD offers "high LED density" comprised of 66 LEDs/410 lumens per foot with uniform, tight beam patterns eliminating typical light "dots." DL-FLEX-CTA provides users the ability to select specific white color temperatures, from 2400K to 7000K, using a radio frequency remote or a DMX controller.
Compact, lightweight, these linear lighting units are well suited for providing inconspicuous, low-scale, low-energy task, accent and display lighting for a multitude of wide-ranging interior commercial, institutional and high-end residential applications.
DL-FLEX-HD is available by the foot or in 16-foot pre-wired rolls with two input power connectors. There are 66 LEDs per foot, 1056 per 16-ft. roll. DL-FLEX-HD is field cuttable every 1 1/16″ and compatible with JESCO's Smart Track adjustable shelf power system. JESCO's proprietary, onboard, Constant Current IC chips control each individual LED, providing uniform intensity and lumen output over the entire run, as well as temperature control.
DL-FLEX-CTA is available in 4- or 12-inch lengths and easily plugs together for longer runs up to 20 feet, and is field cuttable every 4-inches. It can be controlled by a simple CTA radio frequency, wall mounted or hand-held remote controller or a DMX controller for more complex requirements.
Hi-bond 3M double-sided, adhesive tape allow DL-FLEX-HD and DL-FLEX-CTA to be quickly mounted and installed to most surfaces. Light strips mount end to end for bendable or angled patterns, or continuous rows.
Click here to learn more.