Cree LED Lamp Breaks Ten Dollar Barrier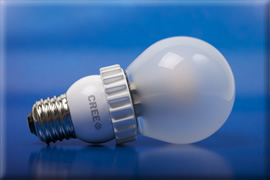 Cree, Inc. has launched a series of LED replacement lamps at a retail price point of $10-15. Available exclusively at The Home Depot, the new lamps are backed by a 10-year limited warranty.
The new lamp utilizes the company's LED Filament Tower Technology and provides a compact optically balanced light source within a real glass bulb with a familiar bulb shape and warm color appearance. The Cree LED light bulb (60W incandescent replacement) delivers 800 lumens, draws 9.5 watts and is available in warm white (2700K) and daylight (5000K) color temperatures. The Cree LED light bulb (40W incandescent replacement) delivers 450 lumens, draws 6 watts and is available in 2700K color temperature. Both models are rated at 25,000 hours and are compatible with a majority of standard dimmers. The lamps are available at a retail price of $9.97 for the warm white 40W replacement, $12.97 for the 60W warm white replacement and $13.97 for the 60W daylight lamp.
Check it out here.
Here's a look "under the hood" of the new lamps: